Seasonal Mini Sessions for 2023
NOW AVAILABLE
Storytime with Santa
Booking NOW!
The magic of the holiday season is like no other and we are offering an opportunity for you to see Christmas through the eyes of your child. As you watch them make memories that will stay with them forever, we will be capturing these moments with stunning photos that you will have forever.
That holiday glow, the bright tree lights, the twinkle in Santa's eyes. You'll find this and more at our Storytime With Santa.
Santa will arrive at our Christmas wonderland and read to a small group of children as we continuously photograph their reactions. Then each child will have the opportunity to sit with Santa and let him know just what they're wishing to receive on Christmas morning.
Everyone will enjoy some hot cocoa and cookies and leave with full bellies and a warm heart.
After the session you'll receive digital images from storytime as well as a digital image of your child's time with Santa.
Our price is magical, too! This 40-minute holiday experience is all for $65 per child. If you have more than one child, they will have the opportunity to take a single photo and a group photo with Santa as well!
Don't delay! Book Now! This special event will fill up quickly. Payment required at time of booking.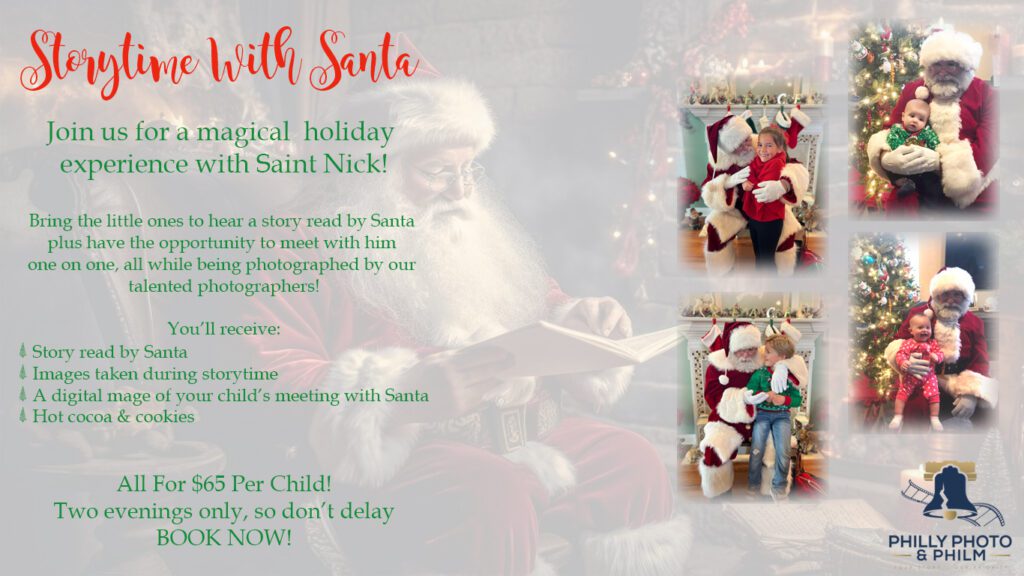 Holiday Mini Sessions Booking NOW!
Celebrate the joy and magic of the holiday season with our in-studio holiday mini session!
For only $150, you'll have the opportunity to capture the festive spirit in a fun and cozy setting. Our talented photographerr will create a warm and inviting atmosphere, complete with holiday-themed props and decorations.
During the session, we'll guide you through various poses and ensure that your experience is enjoyable and stress-free.
Afterward, you'll receive five high-resolution photos, expertly edited to showcase the beauty and happiness of the season.
Don't miss out on this amazing offer to preserve your cherished holiday memories.
Book your in-studio holiday mini session today!
Dates Coming Soon!
🎄📸 #HolidayMiniSession #CelebrateTheSeason